I would like to formally announce the addition of a new member to the household. His name is Gabriel, and he is a 6 year old orange tabby. He was acquired in a parking after some failed window shopping at the animal shelter. As we were walking back to the car, a couple flagged us down and asked if we were interested their cat. They unzipped the carrier and out popped a cute kitty head. We could not refuse him a good home, so we planned a swap in a grocery store parking lot for a few days later.
I have to say, it felt a little shady doing a deal for a cat in the parking and that I might have needed backup just in case the deal went bad. All went well and we ended up with a cat, some litter, a bag of food, and a leopard-skin cat carrier that is better suited for a spoiled Chihuahua.
He has settled into his new home. He is a great cat, with the exception of the 6:30 AM "Cat Crazies" which entail raucous meowing and length of the house gallops. He has a preoccupation with the garage and demands quality time in there every night. He has a fetish for tap water. Anytime he can get into the bathroom, he hops onto the counter and waits for someone to turn on his precious spigot.
Below is a picture that shows how refined a kitty he is when he is not cleaning his nether regions.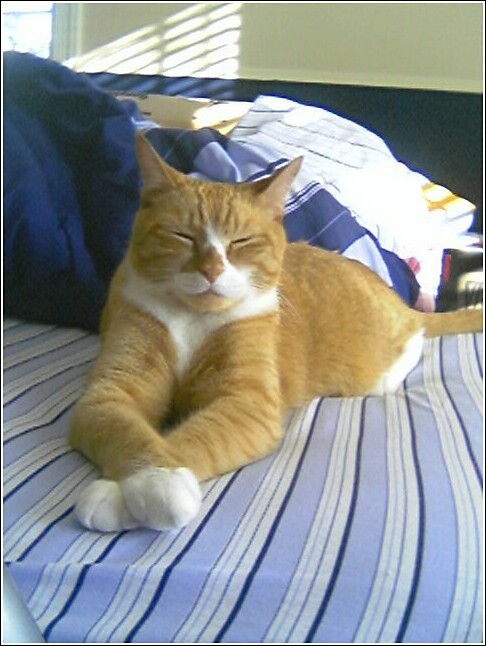 {.imagelink}